September 15, 2016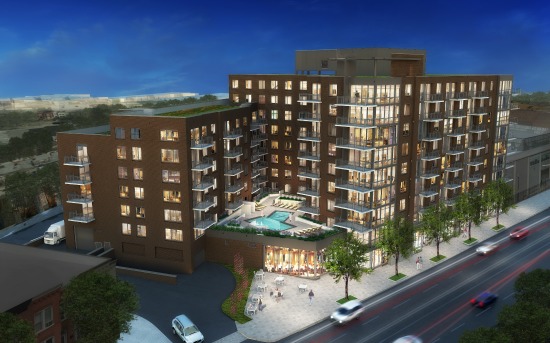 An external rendering of
The Lexicon.
The Lexicon, a strategically located luxury condominium development in the vibrant and growing NoMa neighborhood, brings together the best in convenience and modern amenities (map). Developed by the Bush Companies, creators of urban high-rise condominium homes such as Elan at East Market, 414 Water Street and 2020 Lofts, The Lexicon recently opened its sales gallery and design center to prospective buyers.
The property's 182 one- and two-bedroom residences range in size from 650 to over 1,350 square feet. Each residence features hardwood floors in all living areas and porcelain tile in the kitchen, baths and foyer. All of the homes include gourmet kitchens with gas cooking, stainless steel appliances, quartz countertops, baths with soaking tubs, and gas for efficient heat and hot water. Outdoor balconies or terraces and spacious walk-in closets are offered with nearly every home.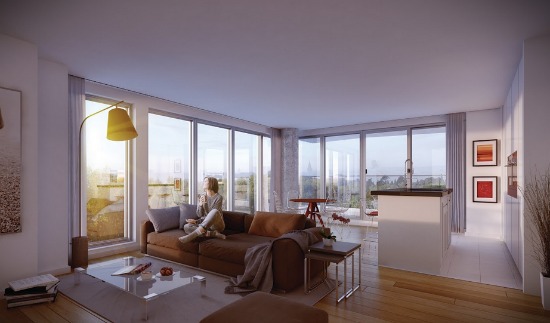 A rendering of the living room space at
The Lexicon.
One-bedroom homes at The Lexicon start at $415,000 and two-bedroom homes start at $620,000. With easy access to NoMa-Gallaudet Metro station, Amtrak, VRE, Marc and Interstate 395, The Lexicon gives residents ample means to travel and explore the city and beyond. Residents will also be treated to over 130 of the best restaurants, shops, museums and entertainment venues the city has to offer, all within walking distance.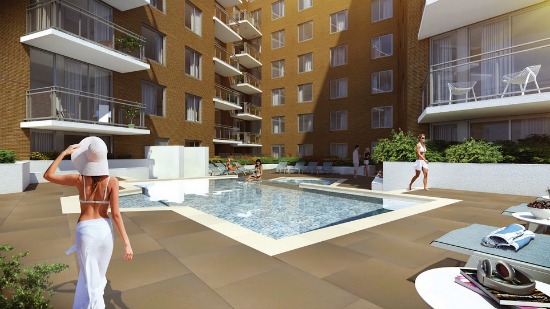 A rendering of the pool at
The Lexicon.
Amenities are in abundance at The Lexicon and include a full-time on-site manager, a concierge service, a fully-equipped business center, a state-of-the-art fitness center, a two-level cascading pool, a club room and complimentary bike storage. Three levels of underground garage parking ensure that all residents will have the opportunity to purchase a parking space and individual storage spaces are available to purchase. The Lexicon also has 8,000 square feet of retail space on the first floor.
The Lexicon sales gallery, located at 72 Florida Avenue NE, is officially open. Weekday appointments are available, and an open house is held every Saturday and Sunday from 12-4pm. Pre-construction sales are underway, with the earliest move-in dates slated for late summer 2017. Future owners have the exclusive opportunity to hand select finishes and upgrades for their home.
For more information about The Lexicon or to schedule an appointment to visit the sales gallery, contact Jennie Mann with McWilliams|Ballard by phone at 703-945-6983 or via email at jmann@mcwilliamsballard.com.