Pike & Rose
, is more than a new neighborhood in North Bethesda, it's an entirely new way of living featuring dozens of brand new shops, dining and neighborhood amenities. Beginning on May 13th, those in search of a new kind of condominium living will have their opportunity to experience life at
930 Rose
as sales begin at Pike & Rose's latest residential community.
Now under construction, 930 Rose will be a 104-unit luxury condominium community built atop the ten-story boutique hotelCanopy by Hilton. Designed to look like a glass jewel box in the sky, the condo is planned for floors 11 through 21 of the property. Not only will residents have 360-degree views of the entire DC area, they will have access to a host of curated services and amenities offered to guests of the hotel below.
930 Rose will host a grand opening event on Thursday, May 12th from 6pm to 8pm, at Pike & Rose's City Perch, which overlooks the 930 Rose site. Sales for the property will begin the following day at the on-site sales gallery that features fully built-out model kitchens, baths and a scale model of the entire building. To attend the event, visit the 930 Rose website here.
As the property is in early stages of construction, prospective buyers will have the opportunity to choose from endlessly customizable finish packages through the end of summer. Packages will include modern and traditional themes, and a variety of finish options will be available.
Plans for 930 Rose include studios, one- and two-bedroom residences, as well as two- and three-bedroom penthouses. The units will range from nearly 600 square feet to over 2,300 square feet and are priced from the low $300s to over $1 million.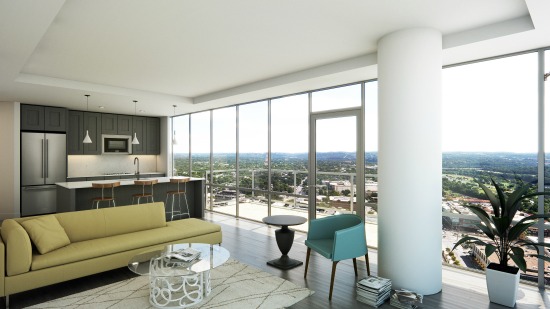 A rendering of a living room at
930 Rose
.
Amenities specific to 930 Rose include a private entrance and lobby, full-time concierge, roof-top resident lounge and outdoor terrace. Residents can also opt into hotel services and amenities, which provides access to Canopy's artisanal breakfast, discounts to the café and bar, valet laundry and dry cleaning, friends and family room rates, meeting and event discounts and catering. Owners will also receive a yearlong membership to Sport & Health, just one block from the property at Pike & Rose. All studios and one-bedroom units at 930 Rose come with one parking space; two- and three-bedroom units come with two parking spaces.
The Pike & Rose neighborhood already includes Best of Bethesda's New Restaurant 2016 Summer House, Stella Barra, London-based Carluccio's, Del Frisco's Grill, a luxury movie cinema by iPic Theaters, Shop House, Nava Health, Lucky Brand and Francesca's, and will include many more restaurants and shops by 930 Rose's opening next year. The property is conveniently located within a five-minute walk of the White Flint Metro station, and one mile from I-270.
Sales for 930 Rose are by McWilliams|Ballard. Visit the property online here or schedule a visit to the 930 Rose sales center located at 11572 Old Georgetown Road in North Bethsda to see true-to-scale model rooms and samples of the property's various finishes.